Check out this article by Paris-based writer, Agnes Poirier, who has a great list of offbeat ways to explore the City of Lights.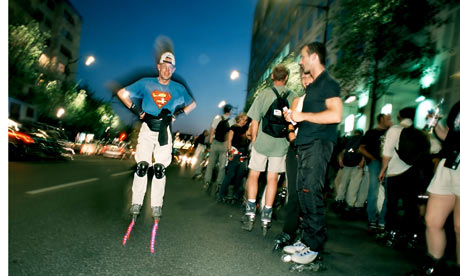 (an excerpt)
Rollerblade by Night
"It started one evening in 1993, and there were only 12 of them. The Friday night rollermaniacs are now a few thousand and have made their nightly apparition on the Paris boulevards an event worth experiencing. In 1998, the French police even had to create the world's first rollerblading force, to monitor those wild rides. Who says Paris doesn't rock? If you subscribe to the association Pari Roller, you'll even get insured in case of accident. Otherwise, just join the rolling bandwagon.
• place Raoul Dautry, 15th. Métro: Montparnasse Bienvenue. Every Fri, 10pm-1am, (except if it rains). pari-roller.com"