What's better than a once-in-a-lifetime cruise to the Galapagos Islands? Sleeping under the spectacular night skies in one of the most remote places in the world on the deck of a ship that's the height of modern luxury.
The Celebrity Flora is a first for the cruise line, dedicated to exploration of the natural wonder of the Galapagos islands. The ship launches in May, 2019, and is based on the island of Baltra in the Galapagos.
100 privileged guests at a time will experience
the Galapagos islands
in the Flora's all-suite environment. In addition to the stylish design, dining, cocktails and onboard signature Celebrity Cruises lifestyle, this exploration ship is designed specifically for the best possible Galapagos luxury experience:
innovative, outward-facing design providing 360-degree views of the islands, open air lounges with hot tubs and cabanas with a view,
expert-led ecological seminars,
seamless sea-to-shore transportation in yacht tenders off the open marina at the ship's aft,
environmentally-conscious features like extreme energy efficiency and anchorless technology to protect the sea floor, and
an open-air stargazing platform on the top deck.
That's where Celebrity has crafted a whole new Galapagos cruising experience: 'glamping' (glamorous camping) with the Galapagos' brilliant night sky and millions of stars above.
It's a one-night experience you'll never forget. Four guests each night will be able to reserve the experience that includes two cabanas with deluxe appointments, one with a bed for sleeping, the other for dining alfresco with curated cocktails, wines, even campfire favorites like s'mores under the stars. And a naturalist is available to point out stars and constellations as seen only from this part of the world. The magical overnight experience concludes with sunrise and a full bed-side breakfast. Glamping under the stars isn't a one-time PR stunt –it's a full-time part of Celebrity's Galapagos experience.Guests on every sailing of the Celebrity Flora on her 10- or 11-day tours as well as 16-night inner plus outer loop Galapagos itineraries can reserve Glamping under the stars on the top deck to add another unforgettable experience to their bucket-list travel to these remote islands and natural wonders.
Start your Trip!
Copyright BestTrip.TV/Influence Entertainment Group Inc or Rights Holder. All rights reserved. You are welcome to share this material from this page, but it may not be published, broadcast, rewritten or redistributed.
70 percent of our planet is covered by oceans, and whales are not only the largest marine mammals, but the largest animals alive. No wonder humans are drawn to the oceans and these mammals who dwarf us and remind us how small we are in the universe.
Whale watching tops many travelers' wish lists. Seeing whales in their natural environment touches every traveler, no matter how young or old, and it's an experience accessible to travelers of all budgets.
As with any interaction with Nature, we recommend booking only with a licensed and reputable operator who knows the area and how not to interfere with the wildlife. Many regions are now protecting whale feeding and breeding grounds. Following protection guidelines helps ensure these fascinating creatures will continue to thrive for future generations.
Here's our list of the top whale watching destinations around the world, when to go, and what types of whales you can hope to see.
ALASKA
America's 49th state is a magnet for summer visitors, and May-September just happens to coincide with its prime whale-watching season, which is concentrated in the Inside Passage area, with tours originating from Juneau, Gustavus, Ketchikan, Petersburg and Sitka.
Although Orcas are seen along the Alaskan coast year round, and gray whales spend summers in the Gulf of Alaska feeding, the star of the show in the Inside Passage is the humpback whale, so numerous many operators guarantee you a free trip if you don't spot a whale on your tour. The incredibly rich waters provide enormous quantities of food the humpbacks need to gain literally tons of weight before migrating for the winter months to breed and calve in …
HAWAII
From December – April, an estimated 10,000 northern pacific humpback whales congregate in the warm waters of Hawaii to give birth to their calves, safely away from northern orca whale predators.
The calm and shallow waters between Maui, Lanai, Molokai and Kahoolawe provide humpbacks with the optimal conditions. Most tours originate on the west coast of Maui, like Lahaina and Maalaea. Tour operators also offer whale-watching excursions from the main island Hawaii.
BRITISH COLUMBIA
You may not be able to identify all the world's whales, but orcas (sometimes called 'killer whales') are unmistakable with their stylish black and white coloring. They are not the world's largest whale, but among the most popular – and the very best place in the world to see an orca in its natural environment is Canada's Vancouver Island mid May to mid September, with most whale watching tours starting in the Vancouver Island city of Victoria. For a more active option, try a whale-watching tour by kayak.
If you get off the beaten path, to the island's west coast, Tofino and Ucluelet are ideal places to see the migration of 20,000 gray whales as they pass the island on their journey between the Gulf of California and the Bering Sea between February and May. If you're there in mid-March, don't miss the
Pacific Rim Whale Festival.
BAJA CALIFORNIA
The gray whales' yearly migration between Alaska and Mexico is one of the longest migrations of any marine creatures in the world. At the southern end of their journey, 20,000 or more gray whales as well as humpbacks, finbacks, and even blue whales gather in the rich, subtropical waters around the Mexican peninsula. Between December and March, the region is a whale nursery, where females give birth in shallow lagoons before heading north again in April.
Tours focus on gray whales, who are known to be curious, approaching boats, with gray whale calves often visible playing. Check out one of several annual whale festivals on the Baja peninsula in the early months of the year.
THE CARIBBEAN:
DOMINICAN REPUBLIC
You can combine your beach vacation in one of the most popular Caribbean islands with whale watching. This is the biggest whale-watching destination in the Caribbean, based in Samana Bay on the island's northern coast, which is now a designated sanctuary. At the beginning of every year, from January through March, thousands of humpback whales migrate to breed and calve in these protected waters.
In addition to having the opportunity to see humpback behavior like breaching and diving, and slapping the water with tail or fins, some tour operators are equipped with underwater hydrophones for you to hear these whales' unique 'singing'.
DOMINICA
Prime season for whale-watching on this island is from October through March. This long season includes migrating whales like humpbacks, and several varieties of dolphins, as well as sperm whales who live here year round. The steep mountains of the island are mirrored underwater. 3000-foot deep waters close to the west coast create a unique and protective home for 200 female sperm whales who can dive deep for food like giant octopus, and also rest in sheltered waters. Male sperm whales join them for a few months late winter and early spring for mating.
GUADALOUPE
The islands of Guadaloupe are in the midst of a ocean freeway for dozens of marine mammals. Even taking a ferry between islands, you can often spot wildlife. For a dedicated whale-watching tour, head to the north coast of Basse Terre, the closest point to waters that are home to sperm whales, migrating humpbacks, as well as a dream list of other Caribbean whales including pilot whales, orca, pygmy right whales, pygmy sperm whales, melon-headed whales and even the rare Antilles beaked whale along with several species of dolphins.
THE AZORES
They're like the Hawaii of the Atlantic. The Azores islands belong to Portugal but are 1500 km away from mainland Europe – almost halfway to Canada. There, in the middle of the Atlantic, 30% of all types of the world's whales and dolphins live permanently or pass by, including sperm whales, the most commonly-seen here as the males live here year-round and the females visit with their calves May-October, pilot whales, who live here all year too, and even the largest whale in the world, the blue whale, and finbacks during their migrations April/May and again September/October. Whale-watching is one of the top reasons travelers come to the remote Azores islands.
QUEBEC AND CANADA'S EAST COAST
The might Gulf of St. Lawrence stretches from Quebec, to New Brunswick, Labrador and the island of Newfoundland, with sheltered waters and abundant fish for hungry whales. The region has a 1200 km
'Whaleroute'.
You can follow the route on a road trip that connects national parks for different whale experiences along the way, with many spotting opportunities from the land, and marine tours offered at many points along the way.
The southernmost pod of extraordinary, white beluga whales in the world live in Saguaney Fjord year round, blue whales in the summer, as well as minke, humpback and finback whales in different waves from May through October. Whale watching tours are popular in all of Canada's east coast provinces, including Nova Scotia's Bay of Fundy, one of the very few places n the world where rare northern right whales make an appearance.
ICELAND
Whale-watching is a year-round event in Iceland, where 11 species of whales can be spotted including blue whales, humpback, minke, sperm whales and orca. Most visitors travel to Iceland during the summer months, but whales can even be spotted in the winter. The town of Husavik, whose
whale museum
is well worth a visit, calls itself the 'Whale Watching Capital of Europe'.
SOUTH AFRICA
You may go to Africa for its Big Five land mammals, but don't forget the marine life off its coast. South Africa is surrounded on three sides by oceans rich in wildlife. From July til October, bulky but agile and playful southern right whales attract hundreds of thousands of whale watchers. 100 km east of Cape Town, Hermanus hosts
a whale festival
and even has a 'whale crier' who blows a horn when a southern right whale is spotted in Walter Bay.
Start your Trip!
Copyright BestTrip.TV/Influence Entertainment Group Inc or Rights Holder. All rights reserved. You are welcome to share this material from this page, but it may not be published, broadcast, rewritten or redistributed.
For a city whose nighttime skyline overlooking Victoria Harbour is already a global icon of urban lighting and signage, a light festival might seem like overkill.
But the new
Hong Kong Pulse Light Festival
expands the effects of Hong Kong's famous neon signs and lit-up skyscapers to a street-level playground of luminous artworks during the darkest months of the year.
Debuting in 2018, the Pulse Light Festival runs from the last week of November through late February. Not only does the artistic light festival brighten the longest nights of the year, it also overlaps Chinese New Year festivities, a high point on Hong Kong's calendar of celebrations for an amplified celebratory atmosphere.
Artists from around the world contribute to the Pulse Light Festival to bring Hong Kong to even greater heights of brilliance in the winter. Here are some highlights visitors shouldn't miss:
'A Symphony of Lights'
It's one of the world's most spectacular light and multi-media shows, and now, Hong Kong's 'A Symphony of Lights' festival gets a winter edition. Every night, Victoria Harbour will get more dazzling, with more participating skyscrapers, more color, more pyrotechics from rooftops, and more lighting effects, all put to music that inspires. Check the calendar for special shows on red-letter dates like Christmas, New Year, and other holidays.
'A Tale of Two Trees'
The holidays are the inspiration behind 2 very different tree installations in Hong Kong. A glorious, traditional, lit-and-decorated Christmas tree lights up Hong Kong's Statue Square with the magic and wonder of the season.
Next to Hong Kong's brilliantly-lit Observation Wheel, a completely different kind of 'tree' installation reinterprets the traditional motif. The 'XTree' is a 25-metre, cubist, 'tree' made from metal scaffolds that evoke tree branches. Its strategically-placed lighting 'dances' to a soundtrack, making the 'XTree' come 'alive'. More than a visual treat, the installation is intended to inspire discussion and debate about environmentally friendlier ways to maintain and translate holiday traditions for the future.
'International Light Art Display'
The 'XTree' is one installation of a much larger display, the incandescent 'International Light Art Display'. Over a dozen, curated light art pieces by global artists from Europe, the US, India, Israel, and elsewhere in Asia, as well as several symbolic works by local Hong Kong artists, line Hong Kon's iconic Victoria Harbour for the festival.
Many installations are interactive and change color or appearance over time and in contact with visitors: revealing your inner beauty with 'Angels of Freedom' (pictured above), witnessing the dialogue of 'Talking Heads', walking through arches of 'Bat and Coin'. The light installations turn stunning Victoria Harbour from a breathtaking view to be seen from a distance, into a destination to explore and experience up close and in a festive evening atmosphere.
The Pulse Light Festival creates an unforgettable visual journey through Hong Kong, and joins other magical winter and holiday festive events, activities and celebrations that light up the night and warm hearts through the entire season.
Start your Trip!
Copyright BestTrip.TV/Influence Entertainment Group Inc or Rights Holder. All rights reserved. You are welcome to share this material from this page, but it may not be published, broadcast, rewritten or redistributed.
It's a global buzzword and cultural phenomenon. When the cold and darkness of winter close in, more and more of us go in search of Denmark's signature recipe for happiness: 'hygge'.
Danish 'hygge' (pronounced 'HOOG-uh') is sweeping the world – everyone wants in on Denmark's famously convivial way of life. The Danish are the happiest people on the planet – even during the long, dark days of winter - and it's all about hygge.
So much so, hygge has actually been nominated for UNESCO World Heritage status. It might be the world's first UNESCO World Heritage… feeling.
But translating hygge – and living it - aren't so simple. A hug? Mindfulness? Cozy?
Hygge is often referred to in design, with tips for creating rooms with 'hygge'. It's been said the Danish buy more candles per capita than anyone else on the planet. Add snuggly wool throws. Nature-inspired materials. A crackling fire. Comfort foods. And the simple pleasures of good company and togetherness.
BestTrip was in
Copenhagen
at the height of a hot summer on a pre-cruise weekend before boarding our
Seabourn cruise
… and with
Copenhagen Urban Adventures, we discovered 'hygge'
isn't just something you find indoors in winter. It happens year round, indoors and outdoors, with people, spaces and activities you love.
Hygge has caught on as a catchphrase with its appeal as an antidote to the ails of the modern world. Travel to Denmark, and you'll discover not only the scenics that stand out in Scandinavian style. Danish food and drink, obsession with cycling and life balance… a concept that's been around for a couple of hundred years has new and more powerful relevance in a busy, connected-yet-impersonal, disengaged and over-programmed world.
Hygge might be the very best souvenir from
Denmark
of all: once you learn how to capture hygge like we did from Mie at Copenhagen Urban Adventures, you'll be able to take that feeling home with you and implement its practice into your and your family's life.
Start your Trip!
Copyright BestTrip.TV/Influence Entertainment Group Inc or Rights Holder. All rights reserved. You are welcome to share this material from this page, but it may not be published, broadcast, rewritten or redistributed.
We can't get enough of the Monograms way of travel. Have someone else do the legwork while you get to have all the fun? Count us in.
All Monograms tours give guests the VIP treatment: a Monograms Local Host and driver to pick you up and drop you off when you're arriving and departing from the city (no matter how you travel – we arrived by cruise ship and departed by air); a private guided tour of the city to see the highlights and get your feet under you; a selection of experiences integral to life in Rio or any of Monograms' world-wide destinations; plus your Local Host is available throughout your stay to provide tips and advice to make sure you get the very most out of your trip.
Watch the video above to see how we got the VIP treatment on a Monograms' tour of thrilling Rio de Janeiro, Brazil.
It's the perfect combination of independent traveling and having an expert local friend in town.
You can even cherry-pick from a number of optional experiences and excursions to customize your visit to your own personal interests. And you didn't have to do any of that research to find or check reviews to ensure you'll have a quality experience; the local experts have already done that for you.
And here are our top picks of optional experiences in other Monograms South America tours:

Argentina Highlights
See exciting Buenos Aires and some of the natural wonders of South America's most southern country. Your local host ensures you experience the best of one of South America's most exciting cities including the grave site of Eva Peron, heroine of the musical Evita!, the majesty of the world's widest boulevard, and the vivid colours of the port area La Boca. Fly to Patagonia to the foothills of the Andes to experience some of the world's most breathtaking vistas, then further south to a glacier park UNESCO World Heritage Site to see one of the world's few advancing glaciers as it 'calves' with chunks breaking away into the water.
Don't Miss these Optional Tours: the world's sexiest dance, a traditional Tango show in Buenos Aires, and the opportunity to visit a working Argentine ranch to see authentic gauchos at work.
WATCH THE VIDEO: Click here to see our Monograms Tour of Buenos Aires and optional Tango show.
Magical Columbia
Columbia is one of the world's travel hot spots and Monograms provides you with the insider guidance and local expertise to help you see the best of Columbia in this 8-day tour. Your local host connects you with local food and colonial architecture in Bogota, and also takes you up a funicular car ride 10,000 feet up to the best view of the city. In the coffee triangle area, you'll visit a coffee farm for a tasting and exploration of the coffee production process, and enjoy views over the Andes mountains. And you'll also get a private tour of the can't-miss sites of Cartagena's UNESCO World Heritage walled colonial historic district and get an insight into the area's Pre-Columbian culture, too.
Don't Miss this Optional Tour: Go 600 feet underground to a Columbian pilgrimage site and architectural masterpiece, a church unbelievably constructed in multiple tunnels of an old salt mine.
Ecuador Discovery
From the Pacific coast to Amazonian tropics to the heights of the Andes, Ecuador is one of the most geographically and ecologically diverse countries in South America. Your local host helps you get a taste of it all, beginning with Quito, near the equator, with its colonial Old Town, a fascinating local market and a nearby local school. You'll get into the countryside for a visit to a highland national park, a natural hot springs at your hotel, and a plantation that grows one of Ecuador's most famous and sweet-smelling export: roses. And you'll take a mountain top train ride of a lifetime to visit Incan, sun-worshipping ruins. Your visit also packs in a cocoa plantation, a panama hat factory.
Don't Miss this Optional Tour: to the Middle of the World.There's a monument in Ecuador at latitude 0 where you can literally straddle two hemispheres. It's a can't-beat photo op!
Peru Highlights
Peru's lost mountain top city of Machu Picchu is on every travel bucket list, and this Monograms tour even gives the opportunity to overnight in this mystical location. Start in Lima with a city tour with your Local Host and experience the 16th century Spanish colonial historic and modern sides of Peru's capital. After you fly to Cusco, you'll also get a guided tour that includes monasteries, ruins, an amphitheatre and a red fortress. You'll visit the sacred valley of the Incas and learn about the importance of alpaca/llamas in Inca culture as well as modern weaving and craftsmanship. Then a train takes you to Machu Picchu, the 'Lost City of the Incas' with your Local Host ensuring you see all its secrets.
Don't Miss this Optional Tour: Lima is home to the largest electronic water fountain complex in the world, and you won't want to miss the spectacle of the water, sound and light show in its Park.
Amazonia Voyage with Rio and Iguassu Falls
This will be 10 of the most memorable days of your life, including 3 days on a ship on the Amazon river. Monograms' Local Host takes you to Rio's mountain-top Corcovado, just like in our video. Then you'll fly to the record-breaking Iguassu Falls for a private guided tour of this 2-mile wide falls. You'll also get a private tour of Manaus' spectacular architecture constructed during the incredible 19th century rubber boom before boarding your Amazon river cruise ship where you'll experience jungle and wildlife and local river communities and their connection to the jungle around them
Don't Miss This Optional Tour: A Panoramic City Tour and Visit to Sugar Loaf Mountain gives you more view points over spectacular Rio and its waterfront as well as one of the best cable car rides on the planet.
- Lynn Elmhirst, Producer/Host, BestTrip.TV
Copyright BestTrip.TV/Influence Entertainment Group Inc or Rights Holder. All rights reserved. You are welcome to share this material from this page, but it may not be published, broadcast, rewritten or redistributed.
If you're trying to come up with the perfect family vacation for the holidays, time to think about cruising.
Whether you are new to cruising or a seasoned sailing family, here are 5 tips to ensure every member of the family has a fun, memorable… and relaxing holiday.
By: Lynn Elmhirst, Producer/ Host and cruise expert, BestTrip.TV
1. Location, location, location.
Pick your family cruise destination first, and make sure every family member will have something to be excited about. A cruise is one of the best ways to introduce the family to Europe, to reach exotic destinations like the Galapagos, or see the world closer to home. (Top image: Families in awe of the Hubbard Glacier in Alaska on a Regent Seven Seas Cruise. Watch the video!)
Can you drive to a major cruise port? Ships embark from cruise ports along all coasts of North America, from Montreal, out the St. Lawrence and down the East Coast, southern ports in Florida, Louisiana and Texas, and up the West Coast from San Diego all the way to Vancouver. From these home-grown ports, cruising families can enjoy Canada and New England cruises, Bahamas/Caribbean/ Panama canal cruises, Mexico and Western Caribbean cruises, Pacific Northwest and Alaska cruises (like the Regent Seven Seas Cruise to Alaska pictured, top), and West Coast/ Baja, South America and even Hawaii cruises.
If you drive to the port where your ship round-trips, a family can save a lot on flights… and use those savings on their family cruise vacation to upgrade a stateroom category, treat yourselves to more shore excursions, even take other members of the family along too and make it an extended family get together.
2. Find the perfect cruise ship match.
Mega-ship or small ship? It depends on your family, and a good travel advisor will consult with you to find your perfect family cruise. There are enormous cruise ships that are destinations in themselves, floating theme park resorts. And for some families, they are perfect holiday destinations, with more round-the-clock adventures, activities, pools, sports, dining and entertainment than the family can even experience in a week or 10-day cruise. With social clubs for kids of all ages right through to the sedate activities many grandparents enjoy, these ships are crowd pleasers.
(Waterslides on Royal Caribbean's Symphony of the Seas)
But they are not the only options. If the kids in your family don't need non-stop activities, if you are more interested in authentic destination experiences, medium and smaller-sized ships including expedition and luxury ships - even river cruise ships - might be the best fit for your family. Smaller ships and expedition ships may not have the whirlwind of activities and entertainment of the biggest ships, but they can dock in more out-of-the-way places, and the atmosphere on board is quieter for families who make their own fun.
3. Book and pre-pay for as much as possible.
Your travel advisor can help match you to your best cruise options that have the best value for the best type of cruise experience for your family. That may involve packaged, pre-paid or included things like tips, drinks packages, shore excursions, even flights. Generally speaking, pre-paying gives you the best value for money. As an added bonus, you'll worry less about tracking your vacation spending budget while you are on holiday – and be more likely to avoid going over-budget.
Pre-booking ensures you'll also be able to enjoy a ship board experience on your first preference of day and time. Spa appointments and specialty restaurants can book up before guests even board the ship. So pre-book parents' date night or someone's birthday or anniversary dinner before you board.
The same advice goes for shore excursions. If there's an experience at a port of call that's the highlight of the family cruise vacation, booking that zip line adventure, wildlife tour, catamaran or cooking class ahead will ensure you avoid disappointment.
(Beach day on Holland America Line's private island in the Bahamas)
4. Give kids some independence – and give parents a break.
One piece of advice parents regularly come back to thank me for is that I recommend families take walkie-talkies. One could be for the parents, the other for older (tween/teen) kids. This gives kids the run of the ship to enjoy their own interests, and still be in contact with parents. Or divided between different family groupings so there's maximum freedom to break into smaller family groups and also easily check in, plan meeting places, get together for a swim, lunch, or another whole-group activity…
Pre-paid drinks packages also enable kids to serve themselves without tracking down an adult or running up a surprise tab.
Since cruise ships are self-contained, they are among the safest family travel destinations for families to enjoy their own interests in the same space. Nothing says 'vacation' like parents lounging by the pool knowing the kids are safe and having a great time on their own.
5. Look into and take advantage of on board services.
This is part of the essential cruise match-making process your travel advisor can help you with. Cruise lines are innovators in keeping kids entertained. They've developed partnerships with kids' favorite characters and movies. And many offer clubs and daycare for kids of all ages – some even for babes-in-arms that make cruises great 'babymoon' destinations. So even if your kids aren't old enough to enjoy the ship's activities on their own, ask what options are for kids of all ages.
It's a great way to change up the pace for every member of the family, from time spent with different members in different experiences.
Cruises make some of the best family vacations that provide lifelong memories and maximum family time. Parents only have to pack and unpack once while the family gets to enjoy multiple destinations and vacation experiences together. With these tips, your next family cruise vacation will be your best holiday together yet!
Start your Trip!
Copyright BestTrip.TV/Influence Entertainment Group Inc or Rights Holder. All rights reserved. You are welcome to share this material from this page, but it may not be published, broadcast, rewritten or redistributed.
The view 630 feet above St. Louis from the top of its defining monument has changed after an immense, multi-year, $380-million renovation to the city's Gateway Arch National Park .
The 1965 Gateway Arch became a global architectural icon and helped cement Finnish-American architect Eero Saarinen's position as one of the masters of American mid-century design. The striking, modernist monument to the westward expansion of the United States is the world's tallest stainless steel arch, the tallest man-made monument in the United States, and even the Western Hemisphere.
The arch itself is unchanged. Its boldly simple, award-winning design, 630 feet high and 630 feet wide remains 'a symbolic bridge between (America's) East and West, past and future, engineering and art'.
Its legs are still firmly planted on the western bank of the Mississippi on the site where the city of St. Louis was founded in the 1700's. But the experience of visiting this emblematic transition to America's West has been transformed.
The re-imagined surrounding urban National Park reconnects the riverfront and Gateway Arch to St. Louis, and visitors to the momentous events the arch symbolizes.
Busy Highway I-44 used to separate the arch and the mighty Mississippi from the city (left, below). Parkland now bridges over the highway, leading visitors uninterrupted from downtown, to St. Louis' Old Courthouse and the new Arch visitor center and museum, and the arch on the river, all the way to the riverfront (right, below).
Don't Miss:
The Old Courthouse was the site of the infamous trials where slave Dred Scott and his wife unsuccessfully sued for their freedom. The ruling against them declared they were not citizens with the right to sue and contributed to the tensions leading up to the American Civil War.
The New Museum at the Gateway Arch completely replaces the original museum from the 1970's.
Six new themed galleries features interactive and engaging exhibits including Colonial St. Louis prior to the Louisiana Purchase when it transferred to the United States, St. Louis' position as busy Mississippi river trade port, President Thomas Jefferson's vision of westward expansion, Lewis and Clark's renowned expedition, how Manifest Destiny affected native people, Mexicans and pioneers, and how the astonishing Gateway Arch monument to westward expansion was designed and built.
The View from the Top. The pair of trams in each leg of the Gateway Arch still takes visitors to a sloped observation deck at the top of the arch. From it, you can gaze over the river towards the East and Illinois, or West, over the park, the Old Courthouse, and the city of St. Louis. If you don't take the tram ride, the new Keystone Exhibit allows visitors to experience the view via live webcam feeds from the observation deck.
The revitalized, over-the-highway park extends to the riverfront, with a plaza, miles of bike and walking paths and space for community events.
The re-opening of the park after years of closure for the renovations coincides with the return of one of America's biggest Fourth of July celebrations. Fair Saint Louis returns to the waterfront and Gateway Arch urban National Park with a series of events that celebrate America's birthday and the new experiences at this breathtaking national monument.
Start your Trip!
Copyright BestTrip.TV/Influence Entertainment Group Inc or Rights Holder. All rights reserved. You are welcome to share this material from this page, but it may not be published, broadcast, rewritten or redistributed.
One of our favorite ways to stay active when we travel is to get on a bike and explore! Cycling through city streets or picturesque countryside is one of the best ways to experience a destination, meet people, and get up close to the sights.
On the other side of the world, or close to home, here are some of our favorite cycling experiences to celebrate Bike Month, and inspire you to book bike time on your next trip.
1. Staying Active in Vancouver: How this hotel's wellness program gets you outdoors into Vancouver's Stanley Park and stunning sea wall.
2. The Mother of All Cycling Cultures: Amsterdam and the Netherlands: What it looks like when there are more bikes in a city than people. And go behind the scenes of a workshop where they create those famous Dutch cargo bikes!
3. Explore what one cycling guide calls: One of the World's Best Cycling Destinations - and it's closer than you think!
Did you get on a bicycle on your last trip? Would you like to get the family active for your next vacation? Take a river cruise where you can borrow a bicycle from the ship and cycle through quaint towns and local vineyards? Or join a cycling tour of one of your bucket list destinations?
Let us help you find the perfect holiday where you can take a two-wheeled exploration of a new destination.
Start your Trip!
Copyright BestTrip.TV/Influence Entertainment Group Inc or Rights Holder. All rights reserved. You are welcome to share this material from this page, but it may not be published, broadcast, rewritten or redistributed.
Venice is not just the 'City of Canals'. It's also always been a city of merchants, and modern Venice is a showcase for iconic Italian craftsmanship and uniquely Venetian works.
You'll find the cheap and touristy items right alongside more expensive items that reflect traditional craftsmanship. The Frezzeria not only leads to St. Mark's Square, it's also the city's busiest shopping street. You'll find boutiques as well as souvenirs for yourself and your loved ones.
So leave room in your suitcase for our top shopping finds in Venice.
By: Lynn Elmhirst, producer/ host, BestTrip.TV
1. Murano Glass
Less than a mile from the main city, the Venetian island of Murano for centuries has been famous for glassware. It was a European pioneer and leader in the miraculous art of glassmaking, and Murano glass is an essential Venice souvenir.
Although you can buy Murano glass throughout Venice, take the time to visit the island, packed with factories and some artists' studios, some of which are open to visitors to see how it's made. You'll find some more unique pieces that appear less 'mass-market' off the beaten track.
You'll have plenty of different expressions of the glassblower's art to choose from. Among the most recognized 'Murano' glass is multi-colored, especially in bright primary colors (millefiori) and glass beads that are often made into jewelry, or even rosaries for the devout in your life.
After you've stocked up on beads and items made from beads, it gets less easy to pack. Glassware, vases, figurines or contemporary glass sculpture, even chandeliers, require more planning, or even better, the studio or shop to arrange shipping for you. But I guarantee that a nice Italian prosecco sipped from a Murano wine glass at home has a taste of your travels that makes the effort all worthwhile.
Tip: Don't miss Paropamiso on the Frezzeria. The owner collects glass 'Venetian pearls' and also travels around the world collecting items to bring back to Venice to his shop, where he also practices the Venetian craft of threading them into jewelry.
2. Masks
Venice may be the world's spiritual home of Carnival, a celebration of decadence in the time leading up to the fasting and somberness of the pre-Easter season. An elaborate mask and historic costume stands in our visual memories as code for 'Venice'. And one of the most important events of the Venice Carnival is the contest for the most beautiful mask.
Masks have become the symbol of Carnival and of Venice itself. They have been a large part of the city's culture even back to the 12th century, when historians believe being wearing masks in the streets permitted Venetians some freedom from the city's rigid class divisions.
You may not be in Venice for Carnival, or invited to one of its masked balls. But every visitor to Venice can participate in Venice's love affair with masks. They are everywhere and made from leather, porcelain and even – as is tradition – from Venetian glass. You'll find masks from the cheap and cheerful for the kids or your next Hallowe'en costume, to works of art you'll want to display.
Tip: Look especially for cat masks. Venice's colonies of cats are storied, and you'll see a number of cat-themed souvenirs in Venice, including portraits of cats in Carnival costumes.
3. Fine Fashion
We're not just talking about the household name Italian luxury fashion houses. Luckily when you're in Venice, you don't have to be a member of the 1% to participate in Italy's renowned sense of style and way with traditional fine fabrics and leather.
Top picks as souvenirs of this Italian specialty: gloves and ties, belts and scarves. Why? They are easily packable, completely practical, and utterly beautiful. A silk tie or a pair of fine leather gloves from Venice may be the perfect gift for anyone on your shopping list from hipsters to grannies… and of course, yourself.
Tip: For ties and scarves, look no farther than Trevisan on St. Mark's (San Marco) square. Displays resemble a silk rainbow with dizzying subtleties – this blue, or this blue or this blue? you will ask yourself. In spite of its proximity to the tourist center of Venice, prices are remarkably sensible, so you may not have to pick between your favorites. The store also sells other accessories for men and women.
Sermoneta is like a candy store of gloves, with over 5 dozen colors for any occasion: driving gloves, winter, fur-trimmed gloves, elbow length evening gloves, in various types of leathers. They say it takes 10 artisans nearly 30 steps to make each pair and yet they are still reasonable enough to gift yourself and your favorite stylish loved ones.
A pair of sky blue or tangerine orange kid gloves will brighten dreary winter days for any woman (or confidently stylish man). Add a silk tie from Venice to a gentleman's suit and it will instantly up his fashion game in an indefinable but noticeable way. Plus earn the wearer compliments and questions about where such a glove or tie of beauty was discovered.
Ah, Venice. More and more Mediterranean cruises embark, disembark, or have overnight calls in the City of Water, and group, small-group, or private tours give you the opportunity to experience one of the world's most extraordinary cities. Let us help you find the perfect way for you to travel to Venice.
Start your Trip!
Copyright BestTrip.TV/Influence Entertainment Group Inc or Rights Holder. All rights reserved. You are welcome to share this material from this page, but it may not be published, broadcast, rewritten or redistributed.
It's a geological mystery and a rare spectacle of Nature at the world's first National Park. Yellowstone National Park occupies over 2.2 million acres of land in Wyoming, Montana and Idaho – larger than Rhode Island and Delaware combined! The park's famously magnificent vistas include forests, lakes, waterfalls and petrified forests, all home to a treasure of American wildlife.
But beneath its surface beauty, that's where Yellowstone National Park gets even more interesting. It's over top of a giant volcanic hotspot, which has created over 10,000 thermal (heat-related geological) 'features', and more than 300 geysers.
The conditions that create geysers are rare. Yellowstone is one of the few places on earth where you see them. Geysers erupt when magma (underground molten rock from volcanic activity) heats up gas and water trapped below ground until they erupt like a teapot coming to boil. The hot water and gas generate enough pressure to break the surface of the earth and gush upwards in a tower of water that lasts minutes, followed by days of steam continuing to release.
That's what's happened at least 4 times in just a couple of months during the spring of 2018 at the park's Steamboat Geyser (photo credit). Each time, about 70,000 gallons of water have erupted from the world's tallest geyser, where powerful eruptions can spew steaming hot water over 300 feet into the air.
Like most geysers, Steamboat is completely unpredictable. Yellowstone's most famous geyser, 'Old Faithful', fulfills the promise of its name and erupts almost on clockwork every hour or so, and you can even monitor them on the dedicated Twitter feed created by the National Park Service. Scientists think Old Faithful's predictability is due to a simple underground structure, whereas Steamboat's structure is believed to be more complex, and the magma movement irregular.
In fact, it's the first time in 15 years that Steamboat has erupted 3 times in one year. The last time it erupted at all was in 2014. But in 1964, Steamboat erupted a record 29 times!
The truth is, other than general knowledge of how the park's underground volcanic activity activates geysers, scientists don't know for sure why Steamboat has started erupting again – or why it has already blown four times in a couple of months.
So the show may not be over.
That's why this might be the best year to make a trip to Wyoming and Yellowstone National Park; for the possibility of witnessing a rare display by Mother Nature you won't see many other places on the planet.
Let us help you plan a trip to Yellowstone and other National Parks in America's West this year; tour packages bring you to the heart of Yellowstone National Park, and hopefully, you'll have a once-in-a-lifetime experience with Yellowstone's famous geysers. Start your Trip!
Copyright BestTrip.TV/Influence Entertainment Group Inc or Rights Holder. All rights reserved. You are welcome to share this material from this page, but it may not be published, broadcast, rewritten or redistributed.
There's nothing better when you travel than having a friend in town to give you the insider tips only a local would know. Most of us don't have friends everywhere on our travel bucket lists. But we do have Monograms.
Monograms tours take the best elements of traveling on your own – and the best parts of traveling with a tour. The secret sauce is the Monograms Local Host. They meet you and transfer you and from the airport, port, or station, take you on a tour of your destination to get you oriented with VIP access to some attractions that allow you to skip the lines of independent travelers… and the Local Host is even available during the rest of your visit to answer questions and give you tips about other things to do to personalize your vacation so it's all you want it to be.
We've strung a couple of Monograms tours together to make a longer trip. And we've taken a Monograms tour of Amsterdam as a pre-cruise extension of an Avalon river cruise in the Netherlands.
We've been to Amsterdam before, but were thrilled to have a Monograms Local Host to give us some insider tips to what's latest and best in Amsterdam right now. Here are his 10 fantastic tips:
By: Lynn Elmhirst, Producer/ Host, BestTrip.TV
1. Lynn: Amsterdam is on a lot of travel bucket lists and many people have a checklist of places they want to see and things they want to do when they visit Amsterdam.What is the neighborhood or experience that might be over-hyped now… and visitors could skip?
Monograms Local Host: Skip Dam Square & Damrak Area.It's way too crowded and is a very tourist-y area where the shops & restaurants target tourists.You won't find authentic Amsterdam here.
2. Lynn: Is there a less-famous district where you can still see how real locals live today?
Monograms Local Host: Yes!Travelers can experience real local lifestyle.
Explore the Jordaan district, the Pijp district and Amsterdam Tower, they are up and coming and not so famous yet.
Go to the new Food Hall!
Take a train to Zandvoort, the beach, from Central Station, which is next to the Double Tree Hilton Hotel we use on Monograms tours.
3. Lynn: When you take visitors on their private Monograms tour, what is the thing about Amsterdam that surprises first-time visitors the most?
Monograms Local Host:People can't believe all the bicycles!There are more bicycles in Amsterdam than people.It's a huge cycling culture and it's right in front of you from the moment you arrive in Amsterdam.
4. Lynn: Many people might be intimidated to try cycling in a city with such aggressive cyclists. If we don't want to bicycle ourselves, or take a break from walking, what is the best way to get around?
Monograms Local Host:
Take the tram (streetcar).They are efficient, take you anywhere in town, and easy to figure out.
The next best thing to taking a bike yourself might be a bike taxi, but be careful which company you use – ask your Local Host or hotel concierge to recommend one.
Hop-on hop off canal boats are such a unique Amsterdam experience.
5. Lynn: Every time I come to Amsterdam I make sure I reserve one evening for Rijstaffel.What are other local food experiences or dishes you must not miss when you are in AMS?
Monograms Local Host: Everyone must try Rijstaffel, or 'Rice Table'.It's Indonesian food that came here from the Netherland's colonial heritage in Indonesia.So it's not at all like traditional Dutch food, but still it's a truly unique Dutch dining experience. For Dutch food, you must try:
Poffertjes = small pancakes
Kibbeling = dutch fried fish
Stamppot = potatoes mashed with other vegetables or even fruit
Dutch Apple pie at Café Papeneiland at the corner of Brouwersgracht & Prinsengracht
6. Lynn: How about drinks?It seems everyone takes the Heineken tour.
Monograms Local Host: Dutch beer is not only about Heineken! Try newer, local Amsterdam breweries like:
Brouwerij 't Ij (Brewery in a windmill)
Brouwerij "Poesiat & Kater" in the east of Amsterdam
De Leckere = a beer from Utrecht
Genever = dutch Gin, Bols is the most famous genever producer
7. Lynn: There's a lot of Dutch food I still haven't tried. What is the most unexpected culinary tradition in AMS you have a hard time convincing visitors to try?
Monograms Local Host: Well, I think all Dutch food is delicious! But two dishes are hard to get people to try:
Raw herring.Everyone is afraid to try it! You eat it with pickles and onions and it's always more delicious than visitors expect.
The dutch like to eat "salt liquorice" which guests don't like at all!!! But you should still try!
8. Lynn: Amsterdam has many world-renowned museums but some people avoid them because of line- ups or miss them because they haven't planned ahead.Do you have any tips?
Monograms Local Host: There are so many museums in Amsterdam, but these are among the most popular and most busy, and some of these tips apply to many museums not just in the Netherlands, but everywhere.
Getting the tickets for Rijksmuseum sometimes can be a challenge, but it's included in the Monograms city sightseeing tour and so our guests skip the line.
Anne Frank: book the tickets months before, or go after 3:30 pm if you don't have tickets and you can just walk in. The best time to visit Anne Frank house is actually at 6 pm, it is open until 9 in summer months and then there are almost no visitors.
Van Gogh Museum: you can only book tickets online, which is easiest to do from home before you travel.Choose your window very early or very late in the day to be sharing the museum with the fewest other fans of the artist.
9. Lynn:I love Amsterdam canal cruises, but I know some people skip tours and like to explore on foot.Do you think people should always take an Amsterdam canal cruise?
Monograms Local Host: Amsterdam is a city of canals – they are maybe more important than even the streets. The best way to see Amsterdam is from the water – it gives you the best perspective of the beauty of the canal houses and it is the way to get a good idea of the city & lay-out of the city. A canal cruise is a great orientation, after that you know which places you would like to spend more time in.
10. Lynn: Every city has café's and bars, markets and parks that can entertain you people watching for hours.Where are your favorites?
Monograms Local Host:
For cafés, try the Jordaan area, Noordermarkt, or Westerstraat
Go to the Saturday market at Lindengracht
And the daily Albert Cuijp market
For parks, try Westerpark or Vondelpark
And the Sky Lounge bar at Double Tree Hilton is always buzzing and has the best views of the city.
Start your Trip!
Copyright BestTrip.TV/Influence Entertainment Group Inc or Rights Holder. All rights reserved. You are welcome to share this material from this page, but it may not be published, broadcast, rewritten or redistributed.
London to Paris for a romantic weekend? Belgium to London for tea? Travelers have gotten used to having the option of a high-speed train connecting city centre London to mainland Europe via the tunnel under the Channel.
Brexit politics aren't slowing down travel between the British Isles and Europe, either. So now the Eurostar is revolutionizing travel from England to the Netherlands too. High-speed trains on the new route take only 3 ½ hours to arrive in downtown Amsterdam from St. Pancras International train terminal, and even less to the Netherlands' second city, Rotterdam.
The inaugural service to Amsterdam connecting two of the world's top travel destinations by high-speed train has been years coming. And the long-awaited April, 2018 launch also boosts the existing London-Brussels section of the route, shaving nearly twenty minutes off the travel time to under 2 h to the Belgian capital.
This is a game changer for European and British travel. With a one-way ticket from just £35, it's an affordable way to add a pre or post extension in London to a river cruise or land tour from Amsterdam. Or for independent travelers to add a London leg to a train trip around the Continent.
Imagine maneuvering a Dutch bicycle across the canals in the afternoon (watch video) and quenching your thirst with a pint in an English pub that evening.
With no trek to the airport. Passengers of the Eurostar have to arrive only 30 minutes before the high-speed train departs from the city centre train terminal. And no waits at the other end to claim your bags. You take them with you on board. And when you aren't marveling at the technology that connects the European mainland to the British Isles, you have wifi to catch up on your Netflix viewing, travel research, or even work if you are on a bleisure trip.
Plus you can feel good about the environmental benefits of train travel as it takes you from the capital of the U.K to the capital of the Netherlands. The new 3 ½ hour, high-speed Eurostar route from London to Amsterdam emits 80% less carbon than flying. And you leave the train station and step right into the heart of the next city on your European vacation.
Start your Trip!
Many of the world's favorite sports have roots in ancient cultures, based on the skills early peoples needed to survive in their environments. Ancient Hawaiian sports are a great example. Life in Hawaii's lush, volcanic, Pacific islands shaped a traditional Hawaiian sports culture and history that is still active – and even celebrated worldwide - today. Here are some ancient Hawaiian sports you'll want to make sure you experience - and maybe even try out - on your next trip to the Aloha State.
Surfing Remember what the Beach Boys said: 'If everybody had an ocean… then everybody'd be surfin'. The islands of Hawaii are the cradle of modern board surfing. And far from the mellow, nomadic lifestyle associated with modern surfing culture, the sport has aristocratic and even spiritual origins of bonding with the sea. Surfing used to be the domain of Hawaiian chiefs and nobles. They were required to demonstrate their surfing skills to maintain or earn their status. Then in the 1880's, three Hawaiian noble teens away at school in California took their boards to the waves at Santa Cruz… and the rest of Hawaii and West Coast modern surfing culture is history.
(Photo Credit);
Now there are famous surf destinations on coasts around the world. But nothing beats surfing – or learning to surf – on the waves where it all began. (Top Photo Credit)


Outrigger Canoe Paddling Outrigger canoes are one of the strongest symbols of Polynesian culture Hawaiians share with Tahitian, Samoan, and even more distant Filipino and New Zealand's Maori societies. Their incredible seafaring heritage and feats of distance traveled in the vast Pacific waters to other islands are due in large part to outrigger canoes.
Early Polynesian and Hawaiian fishermen took single-hull canoes and added support floats alongside, attached to the main hull. Outriggers give canoes extra stability, and allowed the craft to be shaped longer and narrower than non-outrigger canoes, giving them tremendous speed even in rough waters. So effective were outrigger canoes that the early European explorers in the 1500's wrote of native craft that were faster and more maneuverable than European vessels.
(Photo Credit)
Outrigger canoeing has spread world wide, and when you visit Hawaii, there are many opportunities to learn paddling techniques and explore the islands' waters by outrigger canoe. It's also a competitive sport that draws enthusiastic crowds. Races overseen by the Hawaiian Canoe Racing Association and local clubs are often held on popular beaches. And the annual October Molika'i Hoe is a 41-mile, 8-hour open ocean race from the island of Molokai to Oahu island that draws a thousand competitors in teams from around the world.
Surfing and outrigger canoeing have been adopted and shaped coastal lifestyles worldwide. Other Hawaiian ancient sports can only be experienced locally.
Holua Sledding Ancient Hawaiians didn't just surf the waves. They tried to translate similar methods to island terrain. But the technique they developed to surf the land didn't catch on quite so much in modern sports culture. Holua sledding involves a narrow – only 4-inch! – wooden sled to 'surf' down mountain slopes and lava flows. Without snow as a cushion and to reduce fiction, holua sledding is a lot tougher and less reliable a way to get around than the skiing and sledding developed in northern climes.
Holua sledding is said to honor the Hawaiian volcano goddess. You'd need some super-human skills to master bare-ground sledding; you can't pick it up easily in an afternoon on the lava version of bunny slopes. Holua sledding is best left to the experts who keep this cultural sporting tradition alive in the islands, but not to be missed if you have the opportunity to see a demonstration.


Ulu Maika You'll recognize other traditional cultures in the elements of Ulu Maika, too. In a feat of strength and skill, ancient Hawaiians catapulted lava stone 'balls' between 'goal' posts in the ground only about a foot apart. Like other early societies' sports like the stone put or shot put, excellence in Ulu Maika was part of battlefield training. And like later sedate iterations of ball throwing in other cultures, like bowling or bocce ball or petanque, Hawaiian Ulu Maika made the transition from warrior to recreational practice. It's still played wherever supplies and space permit. When you visit Hawaiian cultural sites or a luau, you can often see it and sometimes even test your own skills.
Start your Trip!
Copyright BestTrip.TV/Influence Entertainment Group Inc or Rights Holder. All rights reserved. You are welcome to share this material from this page, but it may not be published, broadcast, rewritten or redistributed.
That's actually a trick question. This tiny dot in the eastern South Pacific ocean, but technically territory of Chile, is actually Rapa Nui.The world over, Easter Island is synonymous with exotic mysteries of an impossibly distant, long-lost civilization and mind-boggling human endeavor.
It may be the most remote inhabited island on the planet. Only a few thousand people live on this remnant of oceanic volcanoes sticking out of the sea, and that's the first miracle itself. The closest inhabited island is 1300 miles away (Pitcairn Island with only 50 people) and the nearest continental point is Chile – over 2000 miles away. Local tales say a 2-canoe Polynesian expedition around AD 700 was the start of Rapa Nui's extraordinary story.
Today, Easter Island is on the map of global travelers who want to come face to face with the island's nearly 1000 moai at its UNESCO World Heritage Site.
These stately, solemn statues were carved during a 500-year period in the island's history, beginning a thousand years ago. The moai share artistic characteristics with Polynesian carvings, confirming the origin tale of the Rapa Nui people. Chiseled with only stone tools out of volcanic rock in the 'quarry' of an extinct volcano, each statue took a team of half a dozen artisans about a year to complete. The largest is over 30 feet long and weighs 90 tons. They were an incredible feat of creativity and production and organized society.
You probably think of them as 'Easter Island heads'. But the moai actually have torsos and some even have complete lower bodies; just buried up to their necks over the centuries by shifting sands.
These monumental statues represented deceased ancestry. And only about a quarter were originally installed, others left in the quarry or rest en route to their intended locations. All but 7 faced inland, the spirits of the deceased 'watching over' the living and their lands. The 7 facing the sea were stood as wayfinders for travelers.
Many moai toppled after the mysterious collapse of the Rapa Nui society in the 19th century. In recent decades, local and international efforts have restored and re-mounted a number of moai. This dot on a map in Chilean Polynesia still seems as awe-inspiring with hidden secrets as when explorers first arrived.
Which brings us to: Why is it called Easter Island? The Dutch explorer who was the island's first-recorded European visitor arrived on Easter Sunday in 1722 – he came upon it while searching for another island. (He must have been pretty lost!) So 'Easter Island' it was dubbed and its current official Spanish name in Chile is still Isla de Pascua, while its Polynesian name is Rapa Nui, in local language: the 'naval of the world'.
There's more to Rapa Nui than the silent witness of the moai to the island's past. Visitors experience the local version of Polynesian culture, explore pink-sand beaches, caverns, and dive sites, cycle, hike or ride horses across prairies and volcanic hillsides, and even surf on those waves so distant from other shores.
How to get there? You can fly from both Chile and Tahiti, participate in tour packages offered by expedition and exotic travel experts, arrive by small or expedition cruise ship, or by private yacht.
There may be no where else in the world where a traveler can feel the greatness of human achievement and small in the face of a culture so far across the waves.
Start your Trip!
Copyright BestTrip.TV/Influence Entertainment Group Inc or Rights Holder. All rights reserved. You are welcome to share this material from this page, but it may not be published, broadcast, rewritten or redistributed.
t may be one of the best ways to see the beauty of Bermuda.
The train system in Bermuda was short-lived, but its legacy is a National Park trail that is a gift to islanders – and visitors to the island – for generations.
In the '30's and '40's, the train, fondly known as 'Old Rattle and Shake', spanned the island 22 miles across, from east to west. It ceased operations shortly after WW2. But then something quite wonderful happened. With the rails removed, the right of way began to be used as a trail for hikers and cyclists, and the trail became formalized and maintained as a National Park of Bermuda for all.
Now, 18 of the original 22 miles of the railway take you through and past some of the island's most memorable landscapes. Breathtaking remote beaches and quiet woodlands. Challenging slopes and tranquil stretches. Lush foliage and city streets. Panoramic ocean views, and many photo-calls along the way at beaches, caves and even a lighthouse.
If you're in Bermuda for a one-day port of call on your cruise, or staying in one of Bermuda's famously hospitable hotels, cycling this trail is one of the best ways to get off the beaten track and see the non-tourist side of Bermuda.
Here are some tips to see the best of Bermuda by bicycle:
Access:
You can enter and leave the trail at either end or at multiple other points along the way as it crosses through the parishes of Bermuda. The trail is made up of sections as short as only a mile, and as long as nearly 4 miles. So you don't have to commit to the entire 18 miles – or at least, not all in one day!
The trail is not continuous. Like the original railway, it traverses busy roadways, communities, bridges and other places you may need to dismount and cross by foot.
There's a free Railway Trail Guide, and you can pick one up from a Visitor Information Centre: at Bermuda's Royal Naval Dockyard, in Hamilton, or St. George's.
Bicycles:
Words matter, and in British-influenced Bermuda, a 'bike' is motorized. What you want is called a 'pedal bike' or a bicycle. (No motorized vehicles are allowed on the Trail).
There are several places to rent bicycles across the island, and rentals are quite affordable, in the $30- 35 range per day. Some are near major hotels and hotel concierges can point you to the closest. You can even make a reservation for bicycles, have them delivered to your hotel and picked up when you've returned.
Or take a guided bike tour for groups, so you join like-minded active travelers and have a guide point out some of the highlights of the trail.
Bermuda's Railway National Park is one of the hidden gems of the island; and cycling is one of the best ways to get off the beach and the beaten track, enjoy an active day on vacation, and experience some of the most beautiful scenery and serenity on the island.
Start your Trip!
Copyright BestTrip.TV/Influence Entertainment Group Inc or Rights Holder. All rights reserved. You are welcome to share this material from this page, but it may not be published, broadcast, rewritten or redistributed.
Buenos Aires ranks high on travel bucket lists: an exciting, European-influenced city in a remote country, renowned for a passionate history and punching above its weight in contributions to global culture.
Argentina has given the world the breathtaking music and dance of tango, the legendary Eva Peron (immortalized in the timeless musical Evita!), some of the New World's best wines from its vineyards, finest beef from its ranches, not to mention its famed polo players, soccer stars, and rabid soccer fans.
With a European familiarity, but its own uniquely Argentine and Latin sensibility, Buenos Aires is a world capital where you want to make sure you don't miss a beat. So my colleagues and I decided to try Monograms.
It's a hybrid way to travel that cherry picks the best parts of doing it on your own, and combines them with the benefits of groups. Monograms promised all the pleasures of Buenos Aires, with someone else doing the hard work – and a Local Host to provide tips and insights and recommendations. Sounds like the dream way to travel, doesn't it?
Here are 6 Reasons to Take a Monograms Tour of Buenos Aires:
The Local Host
The Local Host is the hero of any Monograms story. Our guide Analia is a local who loves her city and is passionate about sharing it with guests. Even when she wasn't with us, she was available by phone. It's like visiting a friend in another city: they take you to and from the airport, help you with logistics, provide you with essential insider tips like the coolest restaurants and local tipping practices, take you to some places and recommend other places for you to explore on your own in your free time.
The Airport:
Independent travelers are used to that moment in Arrivals. You're tired after that long flight, you haul your bags off the belt, go through Immigration… then you're in Arrivals and you have to rally again to figure out the lay of the land as you longingly file past the signs being held up to greet other new arrivals that promise a warm welcome and assistance.
That VIP treatment is yours on a Monograms tour. Our guide Analia was waiting for us, her Monograms sign a welcome beacon in a busy airport. It's not like a large group tour either. No waiting for 30 other people to join us; our group of 3 was whisked off to a waiting mini van.
Luggage and Tipping:
Lugging luggage is the least fun part of any trip. Our bags were taken from us, loaded into the van, and at our hotel, unloaded, and handed to bellmen to take care of from there. A seamless hand-off with no fuss for us. We breezed into our hotel, all without lifting a finger. Or opening a wallet and fumbling with local currency. Tipping had already been taken care of.
Hotel:
Monograms tours include hotels, but you still get to customize your Buenos Aires experience. You can choose among different hotels at different price points and different neighborhoods to suit your own budget and interests in the city. Breakfast is included, so you can start your day off right and without having to figure that out.
In Buenos Aires, the breakfast buffet was so much more than a generic, 'international' meal. It was hard to resist delicious local dulce de leche (how do you make fresh pastries even better? Adding the local caramel sauce) and some of Argentina's famous meat in the form of thinly sliced cold cuts and sausages.
Our guide Analia escorted us in; the hotel staff knew her, and while our bags were being taken from the van to the lobby to our rooms, she smoothly arranged a late check out for us to accommodate our travel schedule. Our hotel was in a busy neighborhood, steps from local shops and cafes and on our first evening, we found the best restaurant around the corner, full of locals and only local dishes and wines – fantastic!
The Private Tour
What a wonderful way to get the lay of the land. And a private tour of the city with your guide is part of every Monograms tour.
Essential Buenos Aires includes the world's widest avenue (which Analia explained to us as we drove in from the airport), the famously and fabulously European architecture, the colorful and eccentric La Boca neighborhood, and even the cemetery in the Recoleta neighborhood, where Eva Peron's final resting place still draws fans and floral tributes. When we were chatting with Analia and she learned of my foodie side, she offered to change the private tour to include the wonderful local market. Although there are 'must see's' in every new city, we were so thrilled our Local Host and the tour was responsive and customizable to our own interests.
The Customization
Some of the customization, like changing up the private city tour to swing by the market, is spontaneous, but other ways to make the Monograms tour your own are baked in so you can put your own mark on your holiday.
Your choice of a selection of vetted hotels, your choice of additional, curated experiences that range from a hands-on culinary experience where you learn to make the famous beef empanadas, a tango show, or even exploring outside the city – a cruise on the Tigre river, or a visit to a real Argentine ranch where you can see 'gauchos' in action.
Plus, of course, plenty of non-programmed free time so we could do exactly what we wanted. I'd heard about the woman who makes the world's most famous tango shoes, so one free afternoon, we went on our own to the atelier of Comme il Faut for an extravaganza of extravagant, limited edition tango/party shoes. Wow!
Our Verdict:
Even in our short stay, we discovered the best of Buenos aires with Monograms. We loved having a 'back up team' even while we did our own thing, taking the inconveniences of travel off our hands, and providing us the that local contact during our tour and transfers in person, but available by phone throughout our stay who gave us that private, insiders' experience of the 'Paris of Latin America'.
By Lynn Elmhirst, Producer/ Host, BestTrip.TV
Copyright BestTrip.TV/Influence Entertainment Group Inc or Rights Holder. All rights reserved. You are welcome to share this material from this page, but it may not be published, broadcast, rewritten or redistributed.
The 2018 Winter Olympics remind us how exciting a travel destination Korea is.South Korea has an enviable range of high octane urban, spectacular mountain, beach and countryside destinations, a rich history, culture and cuisine as well as a world-renowned pop culture that rank South Korea among the most unique places in Asia. Visit by land or by cruise ship; the Korean peninsula has several major ports and a long-established maritime lifestyle.
Here's a list of places you'll want to include on a trip to South Korea.
PyeongchangYou may never have heard of Pyeongchang until it was designated host of the 2018 Winter games, but this winter resort area is a natural Winter Olympic host. Its catchy slogan is 'Happy 700 Pyeongchang', referring to the city's 700 meter (2300 foot) elevation in the Taeback mountain region east of the South Korean capital of Seoul.
Photo Credit
As you'd expect, Pyeongchang sees seasonal snow and low enough temperatures to sustain outdoor winter sports. Two resorts in the region attract skiers, boarders as well as off-season mountain hiking. They're the core of the winter games sites, which have also resulted in additional hotel and sports facilities.
Photo Credit
The Olympics brought other advances, too. A new high-speed (250 km/h or 155 mph) train now brings visitors from Seoul in less than an hour and a half. Don't spend all your time on the slopes in Pyeongchang. Take a break for your spiritual wellness at one of the area's notable and historic Buddhist temples.
SeoulSeoul is the 4th most economically powerful city in the world, the hub of its global technology, electronics, and auto industry wealth. Like other large, wealthy Asian cities with extraordinary modernism, high-tech, high-rise Seoul can feel surreal to visitors. The center of K-pop (Korean pop music), entertainment and media, this is a city that never sleeps. (Top Photo Credit)
Photo Credit
Seoul is land-locked and surrounded by mountains. The city was established on the Han river 2000 years ago, and has been Korea's capital for over six centuries. Korea's west-coast port of Incheon is right next door; if your Asia cruise has a call there, you'll be well-positioned to do some 'Seoul searching'.
Photo Credit
Seoul's neighborhoods are landmark destinations in a whirlwind city. Among the skyscrapers, neon, miles of packed arcades and landmark hotels, you'll be immersed in the lifestyle of one of the largest urban centers in the world, Korean style: chic drinks and dinners as well as upscale shopping for local and international brands.
But don't miss the historic and authentic side of Korea in Seoul. Artisan and local craft markets, the Joseon Dynasty palace complexes of traditional architecture, local festivals and religious ceremonies with celebrants in traditional dress are distinctly Korean experiences. The area is home to 5 UNESCO World Heritage sites as well its international design award-winning modern architecture.
Jeju IslandFormed by volcanic eruptions over 2 million years ago, Jeju island is the largest island off the Korean peninsula, 85 km (50 miles) south of the peninsula in the waters between Korea and Japan. Jeju's lava base limited early agriculture and resulted in a unique and pristine ecology that set Jeju apart from anywhere else on earth.
Photo Credit
It also created breathtaking lava formations including one of the biggest lava tubes in the world, nearly 9 km (over 5 miles) long and close to a hundred feet high and wide. Visitors are in awe of the full range of cave architecture like columns, benches, bridges and more. The 7.6 meter (25 foot) column of lava inside is the largest known in the world. The caves are home to exceptional wildlife, including a 30,000 strong colony of bats.
Photo Credit
Jeju is an increasingly popular resort island, with a sub-tropical, humid climate warmer than the rest of Korea and some stunning beaches. The island, historically isolated from the mainland, also has its own cultural, clothing, architectural and language traditions.
BusanSouth Korea's second biggest city, on the south-east coast of the peninsula, is also the country's largest port. Many Asian cruises call at Busan. Like Seoul, it's a fascinating combination of history and tradition on the one hand, and eye-popping ultra-modern urban lifestyle on the other. Shop til you drop at the world's largest department store, and take a wellness break at one of the city's dozens of traditional spas using natural-sourced spring water.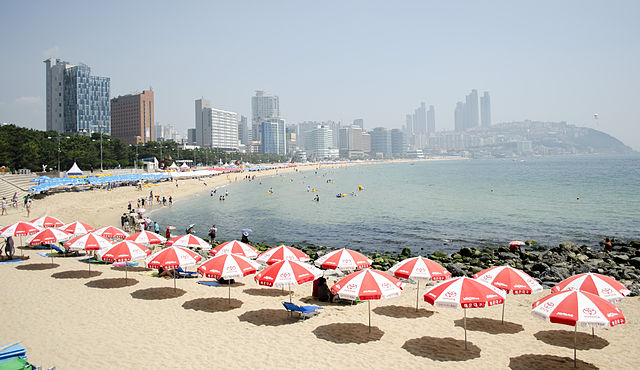 Photo Credit
Compared to Seoul, Busan is blessed with a warmer climate, beaches, and a maritime lifestyle including a renowned fish market, and signature seafood cuisine. Surrounding mountains provide cool air and magnificent vistas over the sea. Many Korean temples are at the tops of mountain hikes, so don't miss one spectacular exception, the Haedong Yonggung Temple on Busan's coast overlooking the Sea of Japan.
Photo Credit
The Demilitarized Zone (DMZ)The DMZ is a 4 km (2 ½ mile) wide no man's land between the two Koreas that spans the entire peninsula 250 km (150 miles) from sea to sea. The DMZ is a very real reminder of the conflict between the two Koreas that remains unresolved today.
Don't let the name mislead you. It's called 'demilitarized', but Korea's DMZ is actually one of the most heavily armed, land-mined, barricaded and patrolled regions of the world. Tours into the DMZ bring the history of the Cold War conflict that split this country into high relief. It also soberly memorializes the lives lost and families separated as a result of the division of the country. Absent human activity in the area, several formerly endangered species have re-established footholds in the DMZ. So there's that small consolation. As an experience of military tourism and reminder of the repercussions of the Cold War that still exist today, Korea's DMZ is unlike anywhere else on the planet.
Photo Credit
The Olympic flame only burns in Korea during the games, but we hope the 2018 Winter Olympics shine a permanent spotlight on South Korea as one of Asia's most unique – and unmissable – travel destinations. Start your Trip!
Copyright BestTrip.TV/Influence Entertainment Group Inc or Rights Holder. All rights reserved. You are welcome to share this material from this page, but it may not be published, broadcast, rewritten or redistributed.
The past and next few years mark a number of World War 1 and World War 2 anniversaries. Commemorations take place here at home, and we hope everyone takes a moment to pause and reflect or attend a memorial service. Our thoughts also turn to the lands fought for and freed by Canadians, and how families, school and other groups, and independent travelers can make trips to the actual sites where our ancestors fought so bravely.
Jenna Zuschlag Misener is a past Executive Director of the non-governmental, non-profit Juno Beach Centre Association in Normandy, France, the Canadian WW2 Landing Beach. We invited her to share her thoughts about what she calls 'The Ultimate Canadian Pilgrimage'.In 2019, Canada commemorates the 75th anniversary of D-Day and the Normandy Landings. As the number of living veterans diminishes, it is more and more important for travelers to take up pilgrimage trips to France to experience the Canadian sector firsthand, walk in the footsteps of history, and keep memories alive.
The
Juno Beach Centre
is Canada's Second World War museum and cultural centre located in Normandy, France. Opened in 2003 by veterans and volunteers with a vision to create a permanent memorial to all Canadians who served during the Second World War, the Centre's mandate is to preserve this legacy for future generations through education and remembrance. The Centre pays homage to the 45,000 Canadians who lost their lives during the War. 5,500 were killed during the Battle of Normandy and 359 on D-Day.
The Centre stands on the very beach of the Canadian landing, surrounded by abandoned wartime weapons and defenses, and for many visitors, a trip to the Juno Beach Centre brings home the reality of textbook tales of the war.
We hope Canadians will be inspired to include remembrance in their travels to France. Whether you have a week or just a day, there are many ways to explore the Canadian sector of Juno Beach, either on a self-guided tour or as a short trip from Paris, London, or beyond.
Planning your PilgrimageThe Centre is located in the coastal town of Courseulles-sur-Mer, a short drive from the city of Caen or Bayeux and just two hours by train from Paris.
There are a number of high-quality tour companies that also offer day trips to the Canadian sector, including stops at the Juno Beach Centre and other important sites around the region. Some companies offer tours from Paris, or they can pick you up once you have arrived in the region. In many cases, these tours can be customized based on your time frame and even your own family history.
You can also book an excursion from a Seine river cruise. More and more cruise companies stop in port cities like Cherbourg and Le Havre and offer excursions to the sector and the Juno Beach Centre for their Canadian passengers. No mention of the Canadian sector in your Landing Beach shore excursion itinerary? Ask your travel advisor and the cruise line in advance to make sure the Canadian landing beach is included in your journey.
Normandy is a very bicycle-friendly region. The Centre has published the 'Maple Leaf Route Cycling Tour' that allows you to follow in the footsteps of Canadians from Juno Beach all the way to the Canadian WW1 Memorial at Vimy Ridge.
We've also published a
new brochure
with information about visiting Juno Beach and the Canadian sector in 2017 if you are planning on traveling to France during the Centennial of Vimy Ridge.
(The Canadian WW1 Memorial at Vimy Ridge; Juno Beach Centre)
We hope this information is helpful to you! We're always thrilled to welcome Canadians to the Juno Beach Centre, and the Centre staff in Canada and France is pleased to help travelers make the most of their time in Normandy and take advantage of the historical and cultural richness offered in this region of France.
We look forward to hearing from anyone interested in the Juno Beach Centre, and to welcoming Canadians to the Centre in the near future. As we like to say, 'See you on the beach!'
Start your Trip!
Copyright BestTrip.TV/Influence Entertainment Group Inc or Rights Holder. All rights reserved. You are welcome to share this material from this page, but it may not be published, broadcast, rewritten or redistributed.
It's not the normal career path of a company CFO. But when CFO stands for Chief Fun Officer, it takes a unique resume to fill the role.
For Carnival Cruise Line, Shaquille O'Neal's credentials as an NBA Hall of Famer and TV commentator - one with a famously fun outlook and larger-than-life personality – fit the bill.
The beloved former basketball star is Carnival's ambassador for its new motto 'Choose Fun'. Shaq's already having fun, touring some of Carnival's 25 mega ships that focus on non-stop fun times and great value. Although the cruise line sails on world-wide itineraries, Carnival is most famous for sun-filled cruise vacations to the Caribbean, the Bahamas and the Mexican Riviera.
Shaq's huge popularity mirrors Carnival's. If the sports personality is the fun face of basketball, then Carnival is the face of non-stop fun cruise travel.
Carnival Cruise Line lays claim to the title of world's most popular cruise line. More than five million cruise travelers each year take a Carnival cruise in search of its particular brand of round-the-clock fun. It's a top choice for families and couples as well as seniors, solo travelers and multi-generation travelers. The line carries more kids and more military personnel than any other cruise line.
We're not sure how many play basketball, but a lot of new and returning Carnival cruisers will be inspired by Shaq's career and irresistible, playful zest for life. As Carnival's ambassador, he's already toured the Carnival Vista's attractions and experiences, including of course the basketball court.
Stay tuned for more Shaq at sea. And stay tuned for more Carnival cruise ships. The colossal, 133, 500-ton, Vista-class Carnival Horizon launches in Spring 2018 as Carnival's 26th ship. And the fleet keeps getting bigger. Another Vista-class ship, the Carnival Panorama, is due in 2019, followed by two more, even bigger ships a couple of years later.
That's a lot of fun – even for Shaq.
Start your Trip!
Copyright BestTrip.TV/Influence Entertainment Group Inc or Rights Holder. All rights reserved. You are welcome to share this material from this page, but it may not be published, broadcast, rewritten or redistributed.
MSC Cruises' new flagship launched at the end of 2017 and it's really making waves. Designers of the MSC Seaside had a goal: to bring guests on a big ship closer to the sea. They threw out the playbook and started fresh, creating the Seaside, a new prototype for a class of ships inspired by an elegant Miami beach condo.
Here are 7 reasons by you'll want to get onboard this new concept ship:
1. Her standout silhouette.
It's all part of getting back to the sea. You'll never be far from a view of the ocean on the Seaside. Three-quarters of the staterooms are ocean-facing. They include beach condo-inspired, chic aft corner suites, exclusive balcony staterooms whose private terraces overlook the ship's promenade and even modular, extended family staterooms that can be configured for groups of up to ten.
2. The waterfront boardwalk.
It's one of the widest on any ship ever built. This extravagant, wrap-around public space takes guests strolling past al fresco bars and restaurants in an experience reminiscent of – no surprise - a chic seaside town.
3. All that Glass.
Take a deep breath and keep strolling, over the hundred-foot long, glass-floored 'Bridge of Sighs' projecting out from the ship on the top deck 131 feet high. You'll feel like you're walking in the air - part of the sea breeze wafting around you.
From walking on ocean breezes to walking on water. Two, 131-foot-long catwalks with glass floors continue the theme of connecting you with the surrounding marine environment.
And there's still more panoramic glass: elevators that whisk you up and down with yet more stunning views of the sea.
4. Entertainment in the Atrium.
On most ships, a place to pass through. On the MSC Seaside, the magnificent, three-story atrium isn't just the stylish heart of the ship. It's also an impromptu, multi-media, multi-level 'stage'. Who knows what you'll discover: dancers and acrobats? Music? Game shows? Flash Mobs? Karaoke? Or light shows? If you like spontaneous delight, make sure to keep the atrium on your Seaside agenda.
5. Adrenalin Rushes.
Race a friend side-by-side on two of the longest zip lines at sea, nearly 350 feet to the finish line at the back of the ship. Or spend your day super-soaked in the vast water park with 5 interactive aquatic adventures.
6. Family Time.
Infants right through teens have their own programs that entertain the kids and free up Mum and Dad's time for much-needed grown-up relaxation. Plus MSC has a Lego partnership that makes kids sorry to leave when the holiday is over. The Doremi Family lounge and program is where families can play together during their vacation.
7. The Luxury Ship within a Ship.
The MSC Yacht Club is MSC's version of a 'ship within a ship' is where you can enjoy a private luxury yacht lifestyle within all the extensive choices of a 5000-passenger ship. We love this especially for extended families; those looking for a prestigious and pampered cruise with a private sun deck, lounge and restaurant, can also join other family members or take advantage of the dining, bars, views and activities in the main part of the ship when the mood strikes.
They call the MSC Seaside the 'ship that follows the sun'. We think this innovative new concept ship is going to gain a lot of followers itself.
Check out even more wow facts and figures about the MSC Seaside. And check with us for MSC Seaside Caribbean sailings from Miami.
Start your Trip!
Copyright BestTrip.TV/Influence Entertainment Group Inc or Rights Holder. All rights reserved. You are welcome to share this material from this page, but it may not be published, broadcast, rewritten or redistributed.
Gianni Versace's dramatic and random murder over 20 years ago on the steps of his Miami home continues to capture public attention in continuous movie, TV and pop culture references.The Italian fashion impresario changed the face of high fashion and became a symbol of popular culture, dressing 90's icons like Diana, Princess of Wales, linking the music and fashion worlds in his association with Cher, Sting, and Elton John, as well as breaking new ground as openly gay, accompanied by his partner on the international party scene.
The fashion house Gianni Versace founded became synonymous with opulent designs and vivid color, and the Greek mythological Medusa head symbol of Versace is unmistakable. Following his 1997 death, Gianni Versace's sister Donatella famously took over as the face and creative force behind Versace, so her brother's vision lives on for us to experience today.
Versace Flagship Boutique, Milan. Photo Credit
Of course you can make your way to the Versace flagship store in Milan, or other high-fashion global capitals. But Versace is not just about shopping. Here are 4 travel destinations where you can live the opulent Versace lifestyle.
Photo Credit
Miami, Florida: The Villa Casa Casuarina
Gianni Versace was killed on the doorstep of his Miami residence: a Mediterranean Revival mansion surrounded by the Art Deco pastel buildings on Ocean Drive in the heart of South Beach.
Before his death, Versace had added an entire new wing and a pool, restored the property, and undertook a redesign in true Versace style. After his death, the Versace Mansion was sold, and today, it's a luxury boutique hotel.
The name reflects its original identity when it was built in the 1930's – but guests at today's Villa Casa Casuarina discover many elements from Gianni Versace's restoration and redesign. It's a unique experience of the fashion figure's personal and private expression of style.
If you stay at the Villa Casa Casuarina, you can swim in the Million Mosaic Pool that Versace had lined with thousands of 24 carat gold tiles. The villa's Mediterranean Revival style dovetailed with Versace's famous Greek mythology inspiration; the pool he designed features the Greek god of the sea, Poseidon. And of course, the fashion house's Medusa emblem also makes appearances. The new owners take their stewardship of Versace's vision seriously, securing a resident artist to maintain the mosaics and frescos Versace created for the villa.
Photo Credit
Versace's former dining room is now a celebrated restaurant 'Gianni's', and the rooftop views of the ocean on the across iconic Ocean Drive are the same the designer would have enjoyed during his stays.
Gold Coast, Australia: Palazzo VersaceThere are two Versace branded hotels in the world, and a third on the way. The first Versace hotel is on Australia's beach holiday destination, the Gold Coast. Its founders call it the world's first fashion-inspired hotel.
The concept was proposed in 1997 and was inspired by Gianni Versace's well-known love of architecture, plus the fact that Versace - alone at that time – was the only fashion house with a home collection that covered all hotel needs from dinnerware to linens to upholstery fabric. Of course, it also had an unmistakable aesthetic synonymous with over-the-top luxury.
Since 2000, the Palazzo Versace has been a beacon of style and decadence on the Gold Coast. The architecture pays homage to Versace's fascination with ancient Greece: a postmodern building interpreting neoclassical architecture, on an exclusive waterfront setting.
Inside, it's all Versace with bespoke furnishings, décor, ambiance, and Italian craftsmanship that respects the couture roots of the Versace brand. Award-winning restaurants, spa and wellness center, a private marina, the country's first water salon cabana lifestyle… and of course a Versace Boutique are all part of the Palazzo Versace experience.
Dubai, United Arab Emirates: Palazzo VersaceDubai's epic extravagance mirrors the Versace opulence, so it's no wonder that the second Palazzo Versace was built in this extraordinary city.
Neoclassical architecture meets elegant regional Arab influences in the building's design. Three pools showcase elaborate mosaics, and landscaped gardens have glorious views of the surreal Dubai skyline. The iconic Versace Medusa head is a constant reminder of the fashion house's influence.
Donatella Versace personally designed exclusive interior bespoke furniture, fabrics, wallpaper and décor items for the hotel, its 215 rooms and suites, and 8 restaurants and bars, each of which has an alfresco terrace, reflecting the classical, Mediterranean inspiration of the hotel, as does the internal courtyard. Versace design is even reflected in the kids' areas.
Hand-crafted is almost an understatement: Nearly a dozen Italian artists were brought in to hand-paint designs on walls, and 1.5 million marble tiles were hand-laid to form the extraordinary lobby floor mosaic (top image).
At Sea: Regent Seven Seas CruisesThe Regent Seven Seas Explorer has been called The Most Luxurious Ship at sea, and its designers also tapped into Versace's unmistakable iconic style for the ship's signature restaurant, Compass Rose.
Photo: BestTrip.TV
As you dine on European-inspired Continental cuisine in the elegant, glittering setting, you'll be dining from Versace porcelain. Four hundred specially-designed Versace place settings are featured in Compass Rose on the Explorer, with other ships in the fleet featuring different Versace dinnerware designs and their signature Medusa head symbol.
Start your Trip!
Copyright BestTrip.TV/Influence Entertainment Group Inc or Rights Holder. All rights reserved. You are welcome to share this material from this page, but it may not be published, broadcast, rewritten or redistributed.
All-inclusive resorts in Puerto Plata and elsewhere on this lush Caribbean island with 1000 miles of coastline put the Dominican Republic on the map for travelers seeking affordable family and couples vacations from winter weather further north.
But what you may not know is that you can also find experiences that rival deluxe vacations anywhere in the Caribbean. Save or splurge, here's how to add indulgence to your winter holiday in the islands this year.
Lush Lodging
In the Dominican Republic, you can stay in unmatched accommodations that run the gamut from world-renowned boutique hotels to opulent resorts. Punta Cana in the east in particular is home to luxury properties ideal for intimate romantic travel, families and multi-generation travel, and large wedding, vow renewal, or reunion groups, even business conferences.
In addition to stunning beaches and multiple pools, many of these properties offer whirlpools, saunas, and extended wellness programs as well as traditional spa and aesthetic treatments. Take sunset yoga, healthy cooking, and fitness programs.
And for complete privacy, book a private villa for a secluded, A-list holiday experience.
Gorgeous Golf, Fantastic Fishing and Prestigious Polo
Dominican Republic is a golfer's dream, with over two dozen meticulously manicured courses set against the backdrop of the country's most stunning scenery and shoreline. Pete Dye's seaside "Teeth of the Dog" (below) at the storied Casa de Campo resort put the Dominican Republic on the world golfer's map.
Here you can play courses designed by Jack Nicklaus, Gary Player, Tom Fazio, Nick Price, and Robert Trent Jones. Sculpted bunkers and uneven terrain but let the natural contours of the land dictate the courses' routing. Tropical breezes on the coastal courses add another layer of challenge to even the best player's game
Sports fishermen flock to Dominican Republic's coasts in pursuit of the blue marlin, one of the largest fish in the world. Hit the water for a tournament or on a charter boat excursion to fish blue marlin, white marlins, mahi-mahi, wahoo, swordfish and tuna in the Caribbean Sea; while blue marlin, wahoo and barracudas can be found in the Atlantic waters off the North Coast.
Dominican Republic is part of the international circuit of the 'Sport of Kings', with polo facilities available at some of the country's most exclusive resorts in La Romana, Punta Cana and Santo Domingo. Hire horses for your own tournaments, or head to a polo match to enjoy the action as a spectator for a one-of-a-kind vacation experience.
Serious Shopping
Fashionistas and shopping enthusiasts will be on cloud nine in Dominican Republic, where it's easy to find couture clothing, unique handmade crafts and stunning precious jewelry all within close proximity.
But we love local best. Indigenous amber or glassy blue larimar (above) jewelry makes the perfect souvenir, and a piece of local larimar or amber jewelry will definitely start a conversation when your friends at home see it.
Make sure to take tours of local coffee, rum, cigar or jewelry manufactures for an opportunity to meet Makers, learn about local culture, and pick up authentic souvenirs.
Delicious Dining and Next-Level Nightlife
Did you know the Dominican Republic was named the Gastronomic Culture Capital of the Caribbean? The island is one of the few in the Caribbean with extensive, diverse and abundant local agriculture. Ingredients are fresh and inspiring. Try the fusion cuisine of innovative chefs who have taken classic international recipes and given them a Dominican twist with local ingredients.
After dinner, find a terrace with a view or a club outside your hotel, especially in the capital of Santo Domingo, where international performers and DJ's make frequent appearances and you can dance the night away to local merengue music. Wine cellars and cigar clubs also offer exclusive tastings sure to please both connoisseurs and novice cigar aficionados and sommeliers.
If you're looking for luxury, maybe it's time to re-define your Dominican Republic vacation experience.
Start your Trip!
Copyright BestTrip.TV/Influence Entertainment Group Inc or Rights Holder. All rights reserved. You are welcome to share this material from this page, but it may not be published, broadcast, rewritten or redistributed.