Intrepid Travel is doubling its family-themed tours for 2017 with 48 itineraries tailored to families in two new styles of travel, Comfort and Active Family.
The decision to launch more than 20 tours comes as a result of the increasing demand for multi-generational travel. Intrepid Travel has also experienced significant demand for its teen trips, designed for ages 12 and up, inspiring the launch of teen trekking itineraries in Peru and Nepal, among other destinations.
"Intrepid Travel's kid-friendly tours shake up the typical family vacation, offering a sense of adventure suited for all generations," says Leigh Barnes, North America director for Intrepid Travel. "By significantly increasing our Family tours for 2017, we hope to be the go-to operator for family adventure travel."
Ideal for meeting like-minded families, Intrepid Travel's family-only adventures offer action-packed experiences steering off the beaten track, away from ball pits and buffets. Transforming travel into a form of education, the tours encourage families to use the world as their textbook by immersing into the destination and culture. With an average group size of 12, travelers can hop aboard local transportation, eat at family-run restaurants and kick back in home-stay accommodations. Family-friendly tours with 2017 departures offer one-of-a-kind experiences including:
Act like Mowgli in search for Shere Khan and other Bengal tigers for a true "Jungle Book" experience on the Comfort Northern India Family Holiday.
Visit Chiang Mai's Elephant Nature Park, recognized by World Animal Protection for its protection of elephant welfare, on the Thailand Family Holiday.
Punt along the waterways of the Okavango Delta's vibrant ecosystem by traditional canoe, greeting grunting hippos on the Namibia & Botswana Family Adventure.
Take on life as a local Gozitan shepherd for the day, tending to animals, cutting corn, making 'gbejniet' cheese and preparing lunch with the host family during the Malta and Gozo Family Holiday.
Start your Trip!
A version of this article previously appeared in TravelPress.com
In 1978, a filmmaker called Carl Boenish came up with a new concept of jumping from fixed objects called B.A.S.E jumping. If you are new to this concept, BASE is acronym for Building, Antenna, Span and Earth (cliff).
read more
Montserrat is part of the British oversees territory in the Leeward Islands. It is part of a Chain of Islands that are popularly known as Lesser Antilles. The Island measures 16 kilometers long, 11 kilometers wide and have an expansive 40 kilometer coastline that boasts of volcanic sandy beaches.
read more
If you're into cycling, then LA is one of the perfect places to practice and improve those cycling skills.
read more
Known as a popular Formula One event in the Netherlands, the Bavarian City Racing is a parade and showcasing of world-renowned racing drivers with their racecars. Originally referred to as the Monaco at the Maas, this Rotterdam demonstration attracts more than 500,000 individuals every year, and more people may be even enticed to join on August 26 this year.

So if you're thinking about watching the Bavarian City Racing and are not sure what to expect, then watch this video provided by Alok Paleri, who shares,

I travelled with Falken to Rotterdam on Sunday, August 22nd 2010 to take a peek at Bavaria City Racing where five Falken cars were due to perform a demonstration along with a couple of other drift teams. Following a crash between two Formula cars that resulted in a 2 hour delay and cancellation of one of the two planned drift runs, as well as the rather uninviting weather, there wasn't enough time to capture enough raw materials - Hence this video being so short.

Planning to join this event in the Netherlands? Then contact us as early as now!
If you're up to hiking or exploring the thousands of miles offered by the renowned Iditarod Trail, then a trip to Alaska would help you attain such goal.

This trail is open all year round, and it doesn't exactly require you to discover it through hiking alone as you can opt for an easier and faster exploration via auto or rail. If you're pursuing it by rail, you could follow the track from Seward to Knik.

Get a glimpse of the Iditarod Trail in LaceMine29.com's video during his seven-day travel in this historical trail.

Contact us, and get started with your next adventure now!
Kona Sunset, Hawaii
When you say Hawaii, the things that come to your mind your mind are romance, passion, flowers, waters, and of course, love.

Hawaii is the most popular destination for honeymoons, wedding ceremonies and proposals, and just about any romantic vacation. Let us together explore the top reasons why.

The Beaches

Hawaii is equated to extremely beautiful beaches. With lots of white sand stretches, the choices abound. The sound of waves by the shore, the blue skies, the serene and beautiful surrounding – who could possibly resist this paradise?

Breath-taking Sunsets

The best place to enjoy sunsets that literally take your breath away is Hawaii. The rich hues of yellow, orange and red will surely bring out the fiery you.

Hidden Paradise

You could arrange for beach tours and nature treks to sites that you'll have to yourselves. These make up for unforgettable experiences which create lasting memories.

The Stars and You

What could be more memorable that gazing at a sky full of stars, hands entwined with the love of your life? This paired with dinner by the beach, just the two of you, and wine to complement the meal. Just lovely!

The "Aloha Spirit"

Aloha also means love and affection, not just hello and goodbye. In Hawaii, you get to imbibe the local culture of giving, of caring and of sharing.

So don't hesitate to visit Hawaii!

Book a Hawaii romantic getaway now!
Monterey Bay, California
Sandwiched by California's geographically-diverse Bay Area and jagged Central Coast, Monterey Bay is full of kid-friendly tourist spots and travel attractions that also serve as a magnet for history enthusiasts.

So read on to learn more on how to spend your day on Monterey Bay.

* Nature-Tripping

Beginning a road trip from the Pacific Grove, you could witness the picturesque route of Monterey Peninsula's 17-Mile Drive as you drive along the Pacific Ocean coast and end in the wonderful seaside community of Pebble Beach. In here, you could either play golf or take a photo in front of the Lone Cypress, an iconic area of a single tree dangerously roosting at the edge of the road.

You could also sail to the rocky islands off Monterey Bay, and visit the Bird Rock, where you could watch a wide array of wildlife like sea lions and pelicans. Meanwhile, you could stop by the Asilomar State Beach, which is found on the coasts of the Pacific Grove, and walk along the walking trail of the beach. During your stroll, you could witness many coves, coastal bluffs, sand dunes, tide pools, a native plant greenhouse and the Del Monte Forest.

* Educational Tours

Moreover, you could let your kids learn more and at the same time have fun at the Monterey Bay Aquarium, which is found on Cannery Row. See your kids enjoy their time as they lay their eyes on three stories of tanks that contain a wide variety of marine wildlife, such as leopard sharks, jellyfish and turtles.

Lastly, you and your family could come around Salinas, where you'll find the National Steinbeck Center. In here, you'll spot the works of famous authors, Salinas and John Steinbeck, including pertinent historical and cultural pieces of information.

Overall, you could definitely enjoy a trip to Monterey Bay with these top two activities!

Start planning your next vacation now!
With the number of henges that seem to be strategically situated near each other in England, have you ever wondered why these daunting structures were built during the Neolithic period?
read more
A Buddhist Temple in Battambang
Battambang province's capital, Battambang is located along the scenic river of Sangkae. One of the primary travel attractions in the area is the French Colonial architecture that serves as remnants of the colorful history of the nation. Aside from this, there are also the bamboo railway, ancient temples and Buddhist shrines scattering all over the city.
Below is an excerpt from her article:
They (travelers) also gain access to one of the country's richest artistic communities: Battambang has produced generations of artists, a legacy that residents are busy building on… Peaceful as the town might be today, Battambang's architectural vestiges bear testament to a tumultuous past.
Check out this article by Paris-based writer, Agnes Poirier, who has a great list of offbeat ways to explore the City of Lights.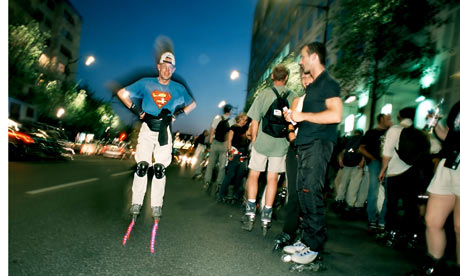 (an excerpt)
Rollerblade by Night
"It started one evening in 1993, and there were only 12 of them. The Friday night rollermaniacs are now a few thousand and have made their nightly apparition on the Paris boulevards an event worth experiencing. In 1998, the French police even had to create the world's first rollerblading force, to monitor those wild rides. Who says Paris doesn't rock? If you subscribe to the association Pari Roller, you'll even get insured in case of accident. Otherwise, just join the rolling bandwagon.
• place Raoul Dautry, 15th. Métro: Montparnasse Bienvenue. Every Fri, 10pm-1am, (except if it rains). pari-roller.com"
Get the Travel Tips
Get The Savvy Traveler Newsletter
Things we blog about
Places we've blogged about